Current version: 2.0
Lode Runner PGS II is an open-source remake of Nintendo's 8-bit Lode Runner game version (by Broderbund).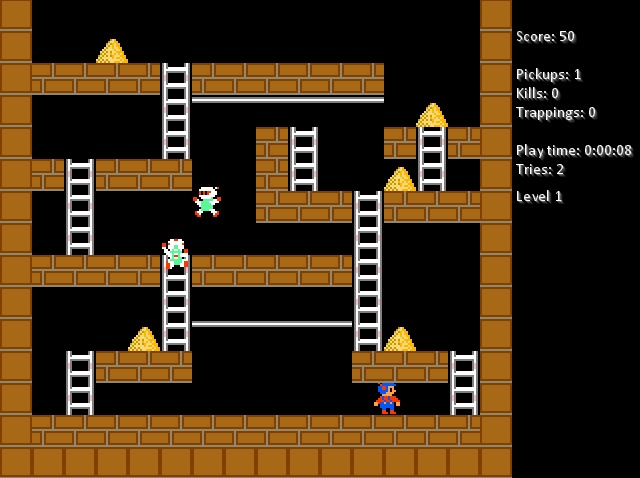 NOTE: This game is FANMADE and not connected with Broderbund or Nintendo or Hudson Soft in any way!

More screenshots:
To see more screenshots and art click here
Lode Runner PGS II 2.0 features:
NES-like graphics and sounds,
About 50 levels in "For experts" levelpack,
5 levels in "Classic remakes" levelpack,
A tutorial with 13 levels,
Built-in level editor.
Level pack support.
Self-updatable - If new version is here, LRPGS will notify!
Open-Source - See how the game works, modify as you like.
Full game version should also support:
SKINS (or, let's say, themes - custom-made graphic and sound packs)
Online skin and level repository:
Single player mode with story and possibly more objects.

But only if I see fans :)
Controls:
Use these default controls:
left, right - move,
up, down - climb ladders
down - fall from wire
R - Su1c1d0
Z - dig left
X - dig right
Objective:
Collect all items (Gold in this version and skinnable in the full version) then go on THE TOP OF THE SCREEN.
About level authors:
If you make a levelpack for the game feel free to send it to me in any way. If I like it, I will include it in the next release (and the online update!)
When LR level-sharing community be released you will be freely available to upload your levels there.
Please be sure that you name levels with name in the form <number>.LRL.
Example: 1.lrl, 2.lrl, 3.lrl, 4.lrl... and so on.
About contributors:
The game source is in the form of Game Maker 6.1 document file, separated. To obtain the source, you have to download the game, extract it, then download this archive, and add its contents into the game folder. The code is not completely commented, but I hope it is still readable.
Making the Single Player mode is great idea. If you want to contribute, contact me.
Game history:
Lode Runner PGS have a loooong history...
Started 1995 when I was playing NES's Lode Runner and discovered the hidden level editor. I started drawing levels in notebooks and upon 2005 I was created six notebooks with levels.
Then I learned programming and created my first Lode Runner PGS (can be downloaded here but is not supported). The game has following "features":
Bulgarian language only
Sounds were ripped from Counter-Strike (LOL)
Graphics were drawn by me (even the character's sprite, which is not completed - Mario)
All the 50 levels are created from me (These levels are same as in this version)
The game features changed gameplay (The player can dig when falling, and there is unlimited number of bad guys for the level, was 3 in the NES version)
Hidden level editor. It is in the Main Menu somewhere under the Help option...
Credits:
Created by:
Peter Petrov
Special thanks to:
Duglas E. Smith
Broderbund
Shaltif
Mark Overmars
YOU, the player
Insane
DeadMeat
Me
Snooby
Madlight
Su1c1d0
---


Version1 + Source (GM6) download here
If you like this game...
If you like this game, consider making a small donation (via PayPal). This way you will really support this project and all other my projects. You wil also support my education, and I will really thank to you in any way, including new and better varsions of this game.